Do you need to shrink your JPEG image to just 20KB? Welcome to our user-friendly online image compression tool, the Pi7 Image Tool, specially designed to simplify the process of resizing and optimizing your images to meet specific size requirements. Whether you need to compress your JPEG images to a 20KB limit for uploading documents, passport photos, or signatures to online portals for admission or government job applications, you've arrived at the right place.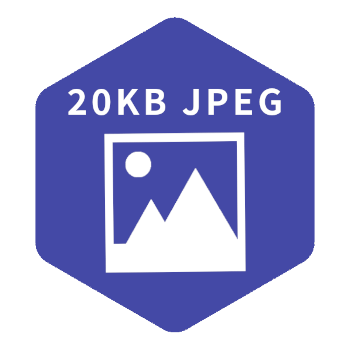 We understand that the typical size of a JPEG image is approximately 3MB when initially captured. However, some web portals necessitate a 20KB JPEG image, particularly for digital signatures and other documents. In this comprehensive guide, we will demonstrate how to effectively use our Pi7 Image Tool to reduce the image size to meet your specific needs.
How To Compress Image to 20kb?
You have to take three steps if you are using the Image compressor tool:- Select the image, Mention the size, and Download the compressed image. Pi7 Team, make this compression tool as much handy so that anyone can compress their images without any advanced knowledge. We will cover these steps in detail one by one.
1) Select a Image For Compression
First, You have to choose a file if you want to compress a JPEG image to 20kb. You can select multiple images at a time from your PC or mobile device. In mobile, all captured images are in JPEG format and every image is around 3-4MB. Here, You can reduce the size of any large image to 20kb.

As shown in the image above you just have to press the "Select image" button and then a popup will appear where you can select JPEG files.
2) Enter 20kb in the Image Compressor
You have to enter a size in the input field when you compress a JPEG image to 20kb. The image compressor tool provides a choice to compress the image to the desired size for ex:- 20kb, 100kb, 200kb. But make sure you enter at least 5kb size. Look at the image given below to understand how it works.

3) Compress and Download Image
Moving further, now you are at the last step after mentioning the size click on the 'Compress' button. A black overlay will display on the screen containing all information about the uploading percentage. After uploading, the process of compression will start. The image compressor tool will compress your JPEG to 20kb.

After compression, a new page containing the compressed image will appear on the screen. Just click the "Download" button and you're done.
Key Features of Our Image Compression Tool:
Our online tool is equipped with a range of features to assist you in achieving the desired image size of 20KB. Some of the key features include:
Custom Size Control: Tailor the size of your image to your exact specifications, making it effortless to reach the 20KB threshold.
JPEG Compression: Our tool specializes in JPEG compression, ensuring optimal quality while reducing the image's size to 20KB.
Efficiency: The process is quick and efficient, saving you time and effort in achieving a 20KB image size.
User-Friendly Interface: You don't need to be a tech guru to use our tool – it's designed for easy navigation to attain a 20KB image size.
Document and Passport Photo Optimization: Ideal for uploading documents, passport photos, and signatures that must meet specific 20KB size requirements.
Convert to 20KB JPG: Easily convert your images to the widely used 20KB JPG format for compatibility with various platforms.
How keep the image size between 20kb and 50kb?
By changing image width and height you can maintain an image size. You can also add lossy compression to the image to get desired size output. Pi7 Team made a tool for resizing image pixels, you can also check it for your requirement.
Conclusion:
Our online image compression tool offers a simple and efficient solution for individuals who need to compress, resize, and convert their images to meet strict size requirements, such as the 20KB limit. Whether it's for document uploads, passport photos, or any other purpose, our tool is designed to make your life easier. Don't let image size restrictions hold you back – use our tool to optimize your images effortlessly.