Convert JPG to PDF Under 100KB
Transform Images to PDFs: 100KB or Less, Effortlessly!!
Drag Images To Arrange In Sequence.
Select JPEG or JPG Images to Create PDF
Are you struggling to meet the 100KB PDF size limit when submitting online applications or job applications? Look no further! Pi7 Image Tool is here to simplify the process for you. Our web tool allows you to effortlessly convert your JPEG and JPG images into PDF files that are under 100KB in size. With our user-friendly interface and powerful compression technology, you can now meet those strict PDF size requirements with ease.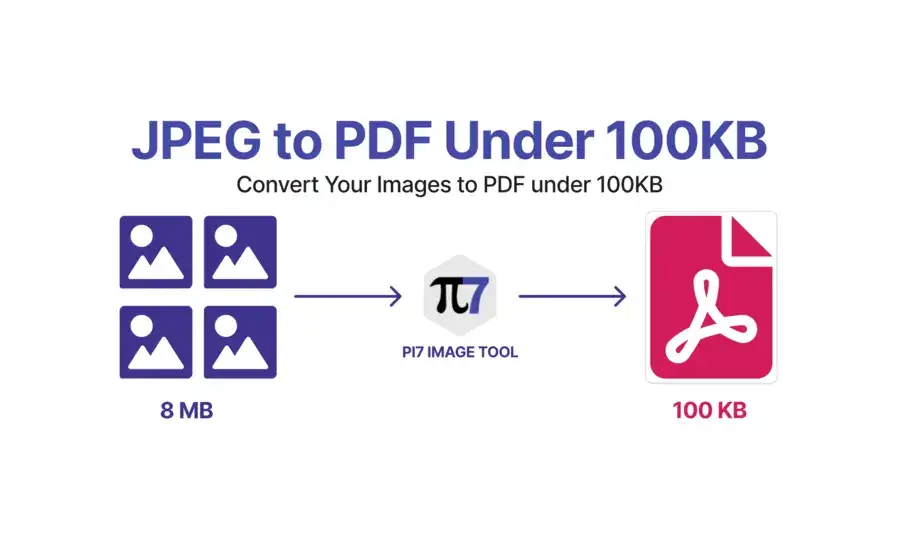 How to Convert JPG to PDF Under 100KB with Pi7 Image Tool
Upload Your Image: Click the "Upload" button and select your JPG or JPEG image from your device.
Choose Your PDF Size: Enter the desired PDF size in kilobytes (KB). The tool will automatically adjust the compression settings to meet your requirements.
Convert to PDF: Click the "Convert" button, and in just moments, your image will be transformed into a PDF under 100KB.
Download Your PDF: Once the conversion is complete, click "Download" to save your compressed PDF to your device.
Looking to convert PDF files back into images? Check out our sister tool, PDF to JPG Converter. It's perfect for extracting images or pages from PDF documents.
Why Choose Pi7 Image Tool?
Simple and Fast Conversion
No need to worry about complex software or time-consuming processes. With Pi7 Image Tool, you can convert your images to PDF in just a few clicks. It's the quickest and most straightforward way to create PDFs under 100KB from your JPG and JPEG files.
Customizable PDF Sizes
Tailor your PDF to fit the requirements of your application. Specify the desired size, and our tool will automatically compress your images while maintaining quality, ensuring your PDF remains under 100KB.
Job Application-Friendly
Job applications often come with strict file size limitations for documents like resumes and cover letters. With Pi7 Image Tool, you can easily convert and compress your application documents to meet these requirements, enhancing your chances of a successful submission.
Secure and Reliable
Rest assured that your data is handled securely. Our tool is designed to protect your privacy while delivering efficient results.
Features and Benefits of Pi7 Image Tool
| Feature | Benefits |
| --- | --- |
| Simple and Fast JPG to PDF 100KB Conversion | Quick and easy conversion in a few clicks |
| Customizable PDF Sizes | Tailor PDFs to meet application limits |
| Job Application-Friendly | Ensure successful submissions with 100KB PDFs |
| Secure and Reliable | Protects your data while delivering results |
| PDF to JPG Converter | Extract images or pages from PDFs easily |
Summary
Pi7 Image Tool is your go-to solution for converting JPG and JPEG images to PDF files under 100KB. Whether you're applying for jobs or submitting online applications, our user-friendly tool ensures your documents meet size requirements without sacrificing quality. Give it a try today, and experience the convenience of hassle-free image-to-PDF conversion!
Subscribe Us On Youtube
Suggest Us New Tool
Do You Need any New Tool For Your Work? Suggest Us & We Will Try To Implement That Tool In Website.