Convert PNG to JPEG Online - Pi7 Image Tool
Welcome to Pi7 Image Tool, your one-stop solution for converting PNG to JPEG online effortlessly. If you're looking to transform your PNG images into the widely supported JPEG format, you've come to the right place. Our user-friendly tool ensures a seamless conversion process, giving you the flexibility you need for your digital projects.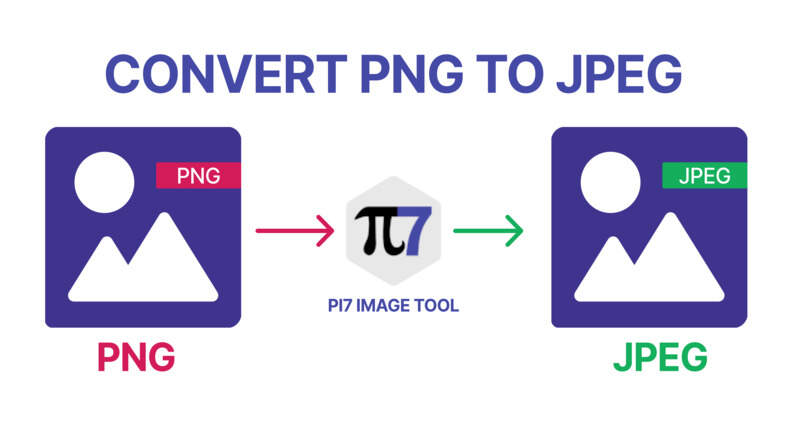 PNG to JPEG Conversion at Pi7 Image Tool:
At Pi7 Image Tool, we understand the need for efficient image conversions. Whether you're a graphic designer, photographer, or simply someone who wants to reduce image file size, our tool has you covered. With a focus on "PNG to JPEG" conversion, we've streamlined the process to make it fast and convenient.
How to Convert PNG to JPEG with Pi7 Image Tool:
Upload Your PNG Image: Begin by selecting your PNG file using our intuitive upload feature.
Select JPEG as Your Output Format: Choose the JPEG format as your desired output format.
Convert: Click the "Convert" button, and let our tool work its magic.
Download Your JPEG Image: Once the conversion is complete, simply click the download link to get your newly converted JPEG image.
Why Choose Pi7 Image Tool for PNG to JPEG Conversion?
Efficiency: Our tool is designed for quick and efficient conversions, saving you time and effort.
Quality: We ensure that your images retain their quality during the conversion process.
No Installation Required: Pi7 Image Tool is entirely web-based, eliminating the need for software downloads.
User-Friendly: You don't need to be tech-savvy to use our tool. It's straightforward and easy to navigate.
Additional Features: Reducing Image Size
Looking to further optimize your images for web use? Check out our Reduce Image Size Tool. It allows you to compress images while maintaining quality, ensuring faster loading times for your website or online projects.
Table: PNG vs. JPEG Comparison
| Criteria | PNG | JPEG |
| --- | --- | --- |
| File Format | Lossless | Lossy |
| Compression | Minimal | Significant |
| Transparency | Supports transparency | No transparency support |
| File Size | Larger file size | Smaller file size |
| Use Case | Graphics, logos, icons | Photographs, web images |
Conclusion:
When it comes to converting PNG to JPEG, Pi7 Image Tool is your go-to solution. Our online tool simplifies the process, ensuring that your images are ready for various digital applications. Experience the convenience and efficiency of PNG to JPEG conversion with us today!
Convert your PNG images to JPEG effortlessly at Pi7 Image Tool.
Note: Don't forget to explore our Reduce Image Size Tool for further image optimization.
Subscribe Us On Youtube
Suggest Us New Tool
Do You Need any New Tool For Your Work? Suggest Us & We Will Try To Implement That Tool In Website.