Convert JPG to PDF Under 500KB
Effortlessly Compress & Convert JPG's to 500KB PDFs
Drag Images To Arrange In Sequence.
Select JPEG or JPG Images to Create PDF
Are you tired of struggling with the 500KB size limit when converting JPG images to PDFs for online applications or job submissions? Look no further! Pi7 Image Tool is your ultimate solution. We understand the frustration that comes with size restrictions on PDF uploads, which is why we've developed a simple yet powerful tool to convert your images into PDFs under 500KB. Let's explore how Pi7 Image Tool can help you effortlessly compress your JPEG images and create PDFs that meet your size requirements.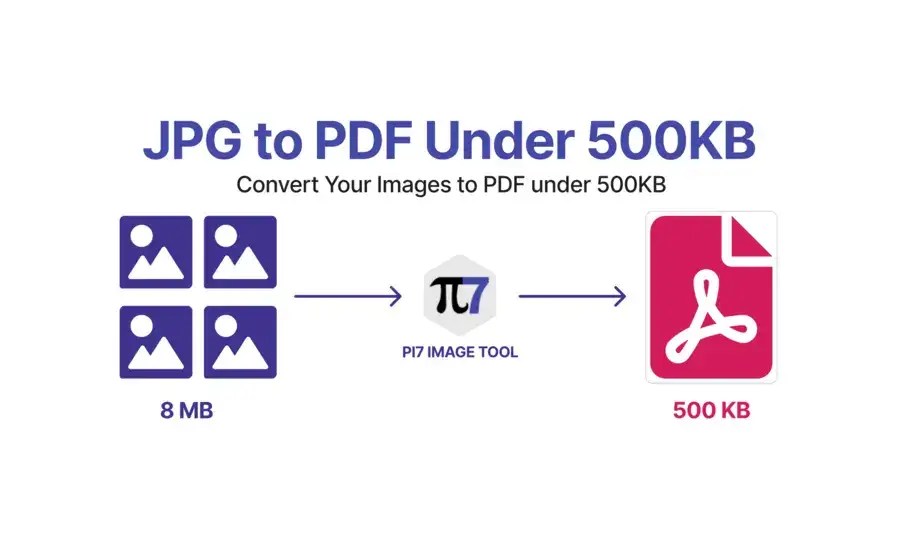 Converting JPG to PDF Under 500KB Made Easy
Upload Your JPEG Image: To get started, visit Pi7 Image Tool on our website. Click the "Upload" button to select the JPEG image you want to convert into a PDF.
Specify Your Desired Size: Next, specify your desired PDF size, ensuring it's under 500KB. This is where Pi7 Image Tool works its magic. You can enter your target size in kilobytes (KB), and our tool will automatically adjust the compression settings to achieve your goal.
Click "Convert": Once you've set your size preference, hit the "Convert" button, and watch Pi7 Image Tool transform your image into a PDF that's under 500KB. It's that simple!
Why Choose Pi7 Image Tool for JPG to PDF Conversion?
Efficiency: Our tool streamlines the conversion process, saving you time and effort.
Customization: You have full control over the output size, ensuring it meets your requirements.
No Software Installation: Pi7 Image Tool is entirely web-based, meaning you can access it from any device with an internet connection.
Free of Charge: Best of all, our service is completely free!
Table: Comparing Conversion Features of Pi7 Tool
Table: Comparing PDF Sizes

| File Size | Pi7 Image Tool (Under 500KB) | Traditional Converter |
| --- | --- | --- |
| Ease of Use | ✅ Simple and User-Friendly | ⚠ May Require Expertise |
| Customization | ✅ Specify Desired Size | ⚠ Limited Control |
| Accessibility | ✅ Online, No Installation | ⚠ Software Installation Required |
| Cost | ✅ Absolutely Free | 💲 Paid Software May Apply |
Conclusion
Say goodbye to the frustration of dealing with oversized PDF files for your online applications and job submissions. With Pi7 Image Tool, you can effortlessly convert JPG images into PDFs under 500KB, tailored to your specific needs. Try it today and experience the convenience of hassle-free PDF conversion!
Don't forget to check out our JPEG to PDF converter for files under 100KB for even more versatile options!
Discover how Pi7 Image Tool can simplify your document conversion needs, and start enjoying the benefits today.
Subscribe Us On Youtube
Suggest Us New Tool
Do You Need any New Tool For Your Work? Suggest Us & We Will Try To Implement That Tool In Website.