Convert JPG To Text - Free OCR
OCR Tool Support More Than 125 Languges
Welcome to Pi7 Image Tool, your one-stop solution for effortless JPG to Text conversion! Unlock the potential of Optical Character Recognition (OCR) as we empower you to convert JPG images containing text into editable and searchable text content. Bid farewell to manual data entry and embrace the convenience of our OCR technology. In this blog post, we'll walk you through the simple process of converting your images into editable text, along with a diverse range of supported languages to cater to all your needs.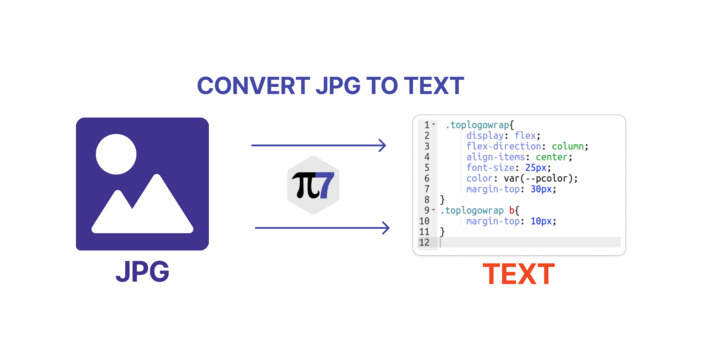 How To Convert JPG to Text
At Pi7, we are committed to delivering a user-friendly experience with our Image Tool. Transforming your images into editable text is a breeze with our intuitive interface. Here's how it works:
Upload Your JPG Image: Begin by selecting the JPG image that contains the text you wish to extract. Our tool accommodates various image qualities and formats with ease.
Select Your Preferred Language (Optional): To enhance recognition accuracy, you have the option to choose from an extensive list of supported languages. This allows our OCR engine to perform language-specific processing on your image.
Convert and Download: With a simple click on the "Convert" button, watch as our powerful OCR engine processes your image and seamlessly extracts the text content. The extracted text is now ready to be downloaded as a TXT file, instantly available for use in your preferred text editor.
Supported Languages
Pi7 Image Tool proudly supports an array of languages from across the globe. Our diverse language support ensures accurate text extraction, regardless of the language in your images. Below is a list of the supported languages:
Afrikaans
Amharic
Arabic
Assamese
Azerbaijani
Azerbaijani - Cyrilic
Belarusian
Bengali
Tibetan
Bosnian
Breton
Bulgarian
Catalan; Valencian
Cebuano
Czech
Chinese - Simplified
Chinese - Traditional
Cherokee
Corsican
Welsh
Danish
Danish - Fraktur (contrib)
German
German - Fraktur (contrib)
Dzongkha
Greek, Modern (1453-)
English
English, Middle (1100-1500)
Esperanto
Math / equation detection module
Estonian
Basque
Faroese
Persian
Filipino (old - Tagalog)
Finnish
French
German - Fraktur
French, Middle (ca.1400-1600)
Western Frisian
Scottish Gaelic
Irish
Galician
Greek, Ancient (to 1453) (contrib)
Gujarati
Haitian; Haitian Creole
Hebrew
Hindi
Croatian
Hungarian
Armenian
Inuktitut
Indonesian
Icelandic
Italian
Italian - Old
Javanese
Japanese
Kannada
Georgian
Georgian - Old
Kazakh
Central Khmer
Kirghiz; Kyrgyz
Kurmanji (Kurdish - Latin Script)
Korean
Korean (vertical)
Kurdish (Arabic Script)
Lao
Latin
Latvian
Lithuanian
Luxembourgish
Malayalam
Marathi
Macedonian
Maltese
Mongolian
Maori
Malay
Burmese
Nepali
Dutch; Flemish
Norwegian
Occitan (post 1500)
Oriya
Orientation and script detection module
Panjabi; Punjabi
Polish
Portuguese
Pushto; Pashto
Quechua
Romanian; Moldavian; Moldovan
Russian
Sanskrit
Sinhala; Sinhalese
Slovak
Slovak - Fraktur (contrib)
Slovenian
Sindhi
Spanish; Castilian
Spanish; Castilian - Old
Albanian
Serbian
Serbian - Latin
Sundanese
Swahili
Swedish
Syriac
Tamil
Tatar
Telugu
Tajik
Tagalog (new - Filipino)
Thai
Tigrinya
Tonga
Turkish
Uighur; Uyghur
Ukrainian
Urdu
Uzbek
Uzbek - Cyrilic
Vietnamese
Yiddish
Yorub
Ease of Use and Versatility:
Pi7 Image Tool has been meticulously designed to cater to users of all proficiency levels. With its simple and intuitive interface, you can effortlessly upload your JPG images and obtain the extracted text within seconds. Whether you are a seasoned professional or a casual user, our tool's user-friendly nature ensures a smooth and seamless experience throughout the conversion process.
You can also Try Our PNG to Text Conversion Tool for PNG Images.
Furthermore, Pi7 Image Tool's versatility sets it apart from the rest. No matter the source of your JPG image, be it scanned documents, photographs, or screenshots, our OCR engine is up to the task. It adapts to varying image qualities and resolutions, delivering accurate and reliable results every time. From handwritten notes to printed text, from invoices to business cards, Pi7 Image Tool empowers you to handle diverse content types with ease.
Language Support for Global Accessibility:
At Pi7, we understand that language diversity knows no bounds. To cater to our global audience, our Image Tool boasts an extensive range of supported languages, making it accessible to users from all corners of the world. No matter the region or linguistic preference, you can trust Pi7 Image Tool to deliver precise and accurate text extraction.
Unlocking New Possibilities:
Pi7 Image Tool opens up a world of possibilities for businesses, educators, researchers, and content creators alike. Digitize your old paper documents for easy archiving and quick retrieval. Extract important data from images to speed up data entry tasks. Utilize the extracted text for keyword analysis, content creation, and data processing. The potential applications are boundless, limited only by your imagination.
Security and Privacy:
We understand that data security and privacy are of utmost importance. Rest assured that your uploaded images and extracted text remain confidential. At Pi7, we implement robust security measures to safeguard your information, ensuring a worry-free experience with our tool.
Feedback and Support:
At Pi7, we are dedicated to continuously improving our services based on your valuable feedback. We encourage you to share your experiences, suggestions, and ideas with us, enabling us to enhance the tool's functionality and usability.
Conclusion
With Pi7 Image Tool, transforming your JPG images into editable text is no longer a daunting task. Embrace the power of OCR and experience a new level of efficiency and convenience. Let Pi7 Image Tool be your trusted companion in simplifying text extraction from images. Embrace the future of OCR technology and unlock the full potential of your images today!
Subscribe Us On Youtube
Suggest Us New Tool
Do You Need any New Tool For Your Work? Suggest Us & We Will Try To Implement That Tool In Website.