Reduce Image Size In KB
Compress an image to 20kb, 50kb, 100KB, 200KB, or any other size.
Introducing Pi7 Image Reducer - your go-to solution for reducing image size in KB without compromising quality. Whether you're preparing to submit documents on government portals, apply for jobs, or seek college admissions, our tool streamlines the process of compressing images while ensuring they meet the required size limits.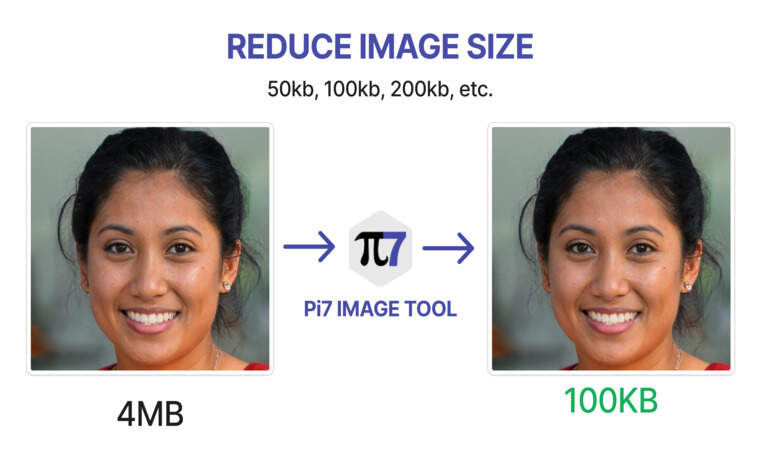 Key Features:
Our Pi7 Image Reducer is specifically designed to make the process of resizing and reducing your images in KB quick and hassle-free. Here are some reasons why you should choose our tool:
Efficient KB Reduction: Pi7 Image Reducer is designed to reduce the size of your images while maintaining their visual quality. Say goodbye to the frustration of oversized files without sacrificing clarity.
Effortless Photo Resizing: Our user-friendly interface allows you to resize images in KB with just a few clicks. No technical expertise required!
Simple to Use: Our user-friendly interface requires no technical expertise. Reduce image size in KB with just a few clicks, making it suitable for users of all skill levels.
Quick Results: Pi7 Image Reducer delivers speedy compression, ensuring your images are ready for submission without delay.
Various Size Options: Whether you need to compress an image to 100KB, 50KB, or any other size, Pi7 Image Reducer offers flexibility to cater to different requirements.
How to Reduce Image Size Using Pi7 Image Reducer:
Upload Your Image: Begin by uploading the image you need to reduce in size.
Select Compression Size: Choose the desired KB size you want your image to be compressed to.
Click Compress: Hit the compress button, and watch as your image is optimized while staying within the specified KB limit.
Download and Use: Once the resizing process is complete, you can download your newly resized image with the reduced file size.
On the other hand, if you want to increase image size in kb, you can also check out our tool for this purpose.
Why Choose Pi7 Image Reducer As Photo Size Reducer?
Pi7 Image Reducer is your dependable companion when it comes to reducing image size in KB for online submissions. Don't let oversized images hinder your progress – experience the convenience of our tool, tailor-made for job applications, college admissions, and more.
With Pi7 Image Reducer, you no longer need to worry about the size of your images. Whether you're looking to minimize photo size or simply need a reliable photo resizer in KB, our tool has got you covered. Say goodbye to large, unwieldy image files and hello to the convenience of Pi7 Image Reducer. Try it today and experience the difference for yourself!
Start compressing images in KB today and ensure your submissions are efficient, professional, and compliant with size requirements. With Pi7 Image Reducer, quality and compactness go hand in hand.
Subscribe Us On Youtube
Suggest Us New Tool
Do You Need any New Tool For Your Work? Suggest Us & We Will Try To Implement That Tool In Website.