Convert JPEG to PNG Online - Pi7 Image Tool
Welcome to Pi7 Image Tool, your trusted online solution for transforming JPEG images into high-quality PNG format. If you're looking for a reliable and easy-to-use JPEG to PNG converter, you've come to the right place. Our tool simplifies the conversion process, ensuring your images are ready for a wide range of digital applications.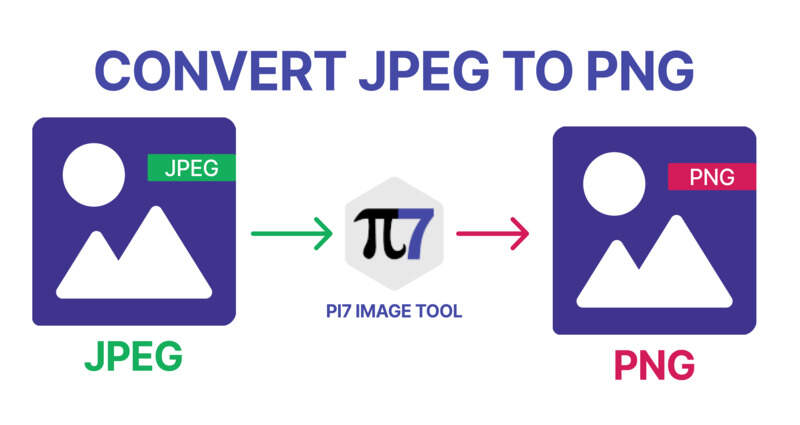 Why Use Our JPEG to PNG Converter?
Converting JPEG to PNG can offer distinct advantages depending on your specific needs:
Transparent Backgrounds: PNG supports transparent backgrounds, making it ideal for images with irregular shapes or where you want to preserve transparency.
Lossless Compression: PNG uses lossless compression, meaning there's no loss in image quality during the conversion, unlike JPEG, which uses lossy compression.
Editing Flexibility: PNG images can be edited and manipulated without degrading quality, making them suitable for graphic design and editing purposes.
Text and Line Art: PNG excels at preserving text and line art, ensuring crisp and clear representation of textual content.
Web Design: For web design, using PNG can be beneficial when you need to display images with transparency or require high-quality visuals.
How to Convert JPEG to PNG with Pi7 Image Tool:
Upload Your JPEG Image: Start by selecting your JPEG file using our user-friendly upload feature.
Choose PNG as Your Output Format: Indicate PNG as your desired output format.
Begin Conversion: Click the "Convert" button to initiate the conversion process.
Download Your PNG Image: Once the conversion is complete, you can easily download your newly converted PNG image.
Additional Features: Convert PNG to JPEG
Explore our PNG to JPEG Converter when you need to convert PNG images to JPEG format quickly and efficiently.
Table: Key Differences Between JPEG and PNG
| Criteria | JPEG | PNG |
| --- | --- | --- |
| File Format | Lossy | Lossless |
| Compression | Significant | Minimal |
| Transparency | No transparency support | Supports transparency |
| File Size | Smaller file size | Larger file size |
| Editing Flexibility | Limited | High |
Conclusion:
Transforming JPEG to PNG is made simple with Pi7 Image Tool. Our online converter streamlines the process, ensuring your images are versatile and ready for various digital applications. Experience the convenience and quality of JPEG to PNG conversion with us today!
Convert your JPEG images to PNG seamlessly at Pi7 Image Tool.
Note: Don't forget to explore our PNG to JPEG Converter for a versatile image conversion experience.
Subscribe Us On Youtube
Suggest Us New Tool
Do You Need any New Tool For Your Work? Suggest Us & We Will Try To Implement That Tool In Website.