Remove Image Background | Pi7 BG Remover
Do you want to get rid of the background from the image? Then Pi7 BG remover can help you. With our tool, you can remove the image background with a single click. Mostly sometimes there is a requirement to remove the background from a person or object in picture. So, it can be embedded in another image.
How to remove the Image Background?
In just simple 3 steps you can erase the image background as given following:
Upload an image.
Click on the "Remove Background" button.
Done! download your image.
At once, you can process multiple images. The limit to process images is 3.
BG Remover can be useful for several tasks
If you are familiar with graphic designing then you must need a transparent image that can be implemented on PDF docs or other image files. Pi7 BG Remover is a free online tool for erasing image backgrounds. Like Photoshop it will automatically detect sharp corners of objects in images and delete extra colors from pictures.
You can use this tool in several cases mentioned below:-
Remove the logo background
A logo is a special identity for your company. But sometimes you have a logo in JPEG format. Due to the JPEG format, the image is not transparent. Upload your logo to BG Remover and remove image background. The tool uses AI to detect logos in images and automatically remove backgrounds with clean edges.
Erase the background of objects (eg car)
If you have an image of an object, for example: - A car on the road. You can cut this car out of the picture with the Pi7 BG removal tool. As shown in the picture below:-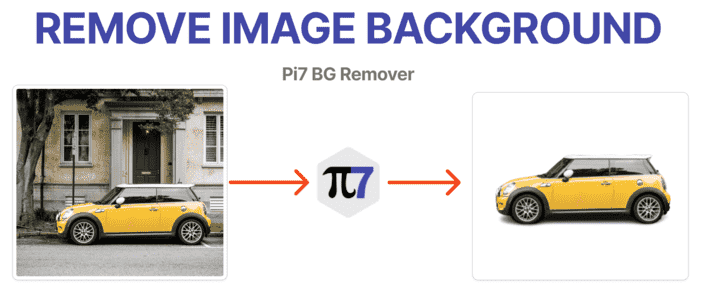 Cropping objects, like photo editing tools, does not require extra effort. There is no need to manually select the corners of the objects. Just upload the photo to our tool and the tool will display the result of the car with a transparent background in seconds. You can also process 3 images at once.
Conclusion
The image looks rushed with unwanted background colors. But now you can remove the image background with this tool. You can also customize transparent PNG images with different backgrounds to make them more attractive. In 3 seconds you can process your image.
Thank you. We hope you find this guide useful.
Subscribe Us On Youtube
Suggest Us New Tool
Do You Need any New Tool For Your Work? Suggest Us & We Will Try To Implement That Tool In Website.