Compress Image To 200kb
Welcome to Pi7 Image Tool – Compress Your Images to Perfectly Fit 200KB Limits, Hassle-Free!
In today's digital age, image size restrictions can be a real hassle, especially when you're submitting online applications or applying for jobs. Many websites impose a strict 200KB limit on image uploads, leaving you with the challenge of resizing your images without compromising quality. That's where Pi7 Image Tool comes to your rescue! Our simple and user-friendly online tool allows you to compress your images to precisely 200KB, ensuring that your uploads meet those pesky size requirements effortlessly.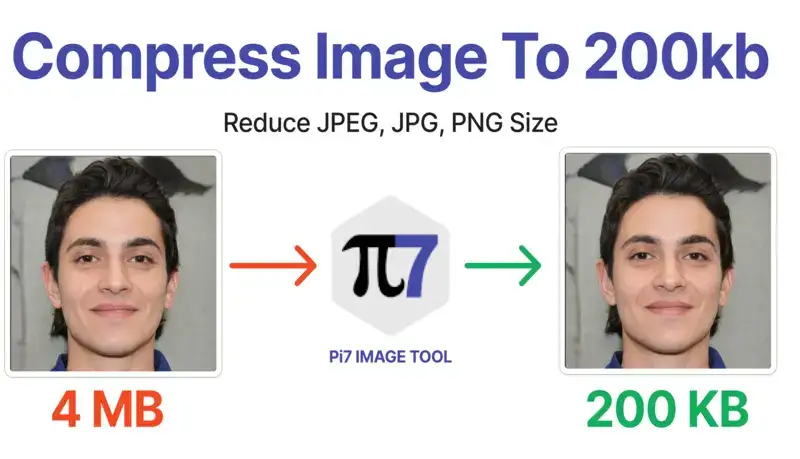 How to Compress Your Image to 200KB:
Upload Your Image: Click on the "Upload" button and select the image you want to compress.
Set the Size: Specify "200KB" as your desired image size.
Start Compression: Click "Compress," and let Pi7 Image Tool work its magic.
Download Your Compressed Image: Once the compression is complete, download your perfectly-sized image.
Compress Image to 200KB in a Snap!
Here at Pi7, we understand the frustrations of resizing images for online submissions. That's why we've developed an image compressor that's tailored to your needs. Our tool is designed to cater to a variety of image formats, including JPEG, JPG and PNG, making it the ideal choice for everyone.
Why Choose Pi7 Image Tool For Compress JPEG?
Easy-to-Use Interface: Pi7 Image Tool boasts an intuitive user interface that requires no technical expertise. Simply upload your image and specify the desired size, and our tool will do the rest.
Preserve Image Quality: Worried about losing image quality during compression? Don't be! Our advanced algorithms ensure that your images stay sharp and vibrant while meeting the 200KB size requirement.
Lightning-Fast Processing: Pi7 Image Tool is lightning-fast, delivering compressed images in mere seconds. Say goodbye to long waiting times.
Multiple Format Support: Whether you have a JPEG, JPG or PNG image, our tool can handle it all. We make sure your images meet the 200KB limit, regardless of the format.
Looking for more image-related tools? Check out our DPI Converter Tool to adjust your image's DPI (dots per inch) with ease!
Table: Key Features of Image Compression to 200KB
| Criteria | Pi7 Image Tool Compression |
| --- | --- |
| Efficiency | High |
| Quality | Maintained |
| Ease of Use | User-friendly |
| Customization | Adjustable compression level |
| Format Support | JPEG, JPG, PNG |
Don't let image size restrictions stand in your way when submitting online applications or applying for jobs. With Pi7 Image Tool, compressing your images to 200KB has never been easier. Try it now and experience hassle-free resizing for yourself!
Use this tool in Indonesian Language Version ("kompres foto 200kb")
Subscribe Us On Youtube
Suggest Us New Tool
Do You Need any New Tool For Your Work? Suggest Us & We Will Try To Implement That Tool In Website.