Compress Image To 100kb
Hey there! Ever had trouble uploading your photos because they're too big for those pesky 100kb limits on government job portals or admission websites? We get it, and that's why we're excited to introduce the Pi7 Image Tool, a super simple way to easily compress images to 100kb. In this age of online everything, it's crucial to meet those size requirements, and our tool is here to help without making things complicated.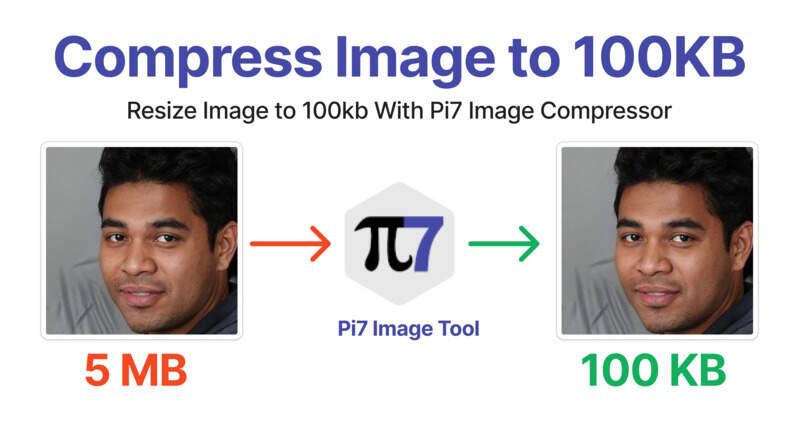 How to Compress Image to 100kb: A Quick Guide
Using our tool is as simple as 1-2-3! Follow these easy steps to compress your images without compromising on quality:
Upload Your Image: Navigate to the Pi7 Image Tool and upload the image you need to compress.
Set 100kb Compression Size: Choose the compression level to achieve the desired 100kb size without sacrificing image quality.
Download the Compressed Image: Click "Compress Image", Once the compression is complete, download your perfectly resized image, ready for hassle-free submission.
By following these user-friendly steps, you can effortlessly compress your photos to 100kb, ensuring they meet the requirements of various online platforms.
You can also see our "compress image to 200kb" guide for compression under 200kb.
Benefits of Using Pi7 Image Tool as Photo Compressor:
Efficiency: Save time and effort with a quick and efficient image compression process, streamlining your submission tasks.
Maintained Quality: Our tool employs advanced compression algorithms, ensuring that your images are reduced to 100kb while retaining optimal quality.
Super Quick: Save time with our tool that makes compressing images to 100kb a breeze.
Versatility: Whether it's a JPEG or any other format, Pi7 Image Tool accommodates diverse image types, making it versatile for various online portals.
User-Friendly Interface: Designed with simplicity in mind, our tool provides a user-friendly experience, making image compression accessible to all.
Portal Compatibility: Perfect for submitting images on government job portals, admission platforms, web designs, and more that require a 100kb size.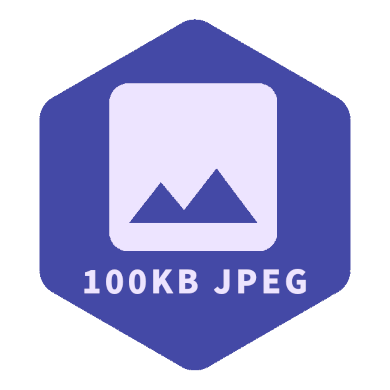 Pi7 Image Tool VS Competitor Tools For Image Compression
Certainly! Below is a simple comparison table highlighting the key features of Pi7 Image Tool compared to other tools in the market for compressing images to 100kb:
| Feature | Pi7 Image Tool | Competitor Tools |
| --- | --- | --- |
| User-Friendliness | Intuitive interface for all users | Varies; some tools may have a steeper learning curve |
| Compression Efficiency | Optimized for efficient compression | Varies; may not achieve the same balance |
| Quality Retention | Maintains visual integrity of images | Quality degradation may be noticeable |
| Versatility | Accommodates various file types (JPEG, etc.) | Specialization in specific file types may occur |
| Speed of Compression | Quick and efficient processing | Speed may vary among different tools |
Conclusion:
In conclusion, Pi7 Image Tool is your ultimate companion when you need to compress images to 100kb. With an intuitive interface and a commitment to maintaining image quality, our tool ensures that you can seamlessly navigate the constraints of various online platforms. Say goodbye to image size-related stress and hello to hassle-free submissions. Try the Pi7 Image Tool today and experience the convenience of compressing images without compromise!
Use this tool in Indonesian Language Version ("kompres foto 100kb")
Subscribe Us On Youtube
Suggest Us New Tool
Do You Need any New Tool For Your Work? Suggest Us & We Will Try To Implement That Tool In Website.