Resize Image in Centimeter - Pi7 Image Resizer
Note:- You can resize 10 images at once.
Welcome to Pi7 Image Tool, the all-in-one solution for resizing images in centimeters and adjusting DPI. Are you tired of struggling to meet the precise requirements for passport photos on government portals or college applications? Our tool has you covered, allowing you to resize and customize your images accurately and conveniently.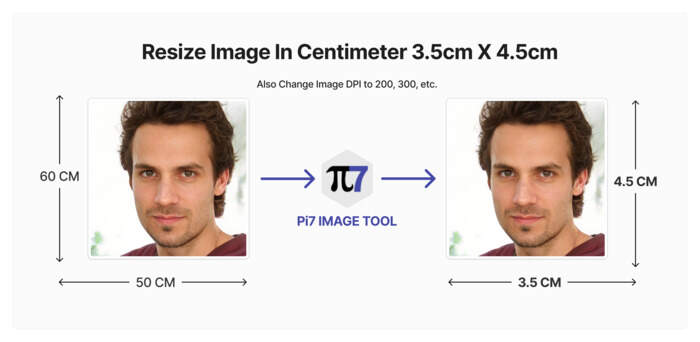 Key Features:
Accurate CM Resizing: Pi7 Image Tool simplifies the process of resizing images in centimeters. Whether it's for passport photos, college applications, or any other purpose, our tool ensures your images match the required dimensions flawlessly.
Custom DPI Adjustment: Not only can you resize your images, but you can also adjust their DPI (dots per inch) using our tool. This feature comes in handy when you need to enhance the image quality for printing or online submission.
Government Portal Ready: Many government job applications and college admissions require specific photo dimensions and DPI settings. Pi7 Image Tool caters to these requirements, making your application process smoother.
User-Friendly Interface: Pi7 Image Tool boasts a user-friendly interface suitable for everyone. You don't need to be tech-savvy to resize images and adjust DPI effectively.
Quick and Efficient: Tight deadlines? No worries. Our tool ensures rapid resizing and DPI adjustments, enabling you to meet submission timelines without a hitch.
Versatile Sizing Options: Whether you need a 3.5 x 4.5 cm image or any other dimensions, Pi7 Image Tool offers versatility, accommodating a wide range of sizing needs.
How to Resize Image in CM:
Upload Your Image: Begin by uploading the image you need to resize or adjust DPI for.
Set CM Dimensions: Input the desired height and width in centimeters for resizing. Optionally, adjust the DPI settings as needed.
Click Resize: Hit the resize button to see your image transform to the specified dimensions with the chosen DPI.
Download and Utilize: Once resized and DPI-adjusted, download your image and use it for your application or printing needs.
If you're seeking pixel-based image resizing, be sure to explore our companion tool, Pi7 Pixel Resize. This tool is designed to provide accurate and tailored adjustments to your images, ensuring pixel-perfect results for your creative projects.
Why Choose Pi7 Image Tool For Resize Image?
Pi7 Image Tool stands as your comprehensive solution for resizing images in centimeters and adjusting DPI. It's specifically designed to cater to government portal photo requirements, college applications, and various other scenarios.
Don't let incorrectly sized images or low DPI affect the quality of your applications. Experience the convenience of Pi7 Image Tool, and ensure your images align perfectly with the standards demanded by various platforms.
Get started today and streamline your application proces with accurately resized images and optimized DPI settings!
Subscribe Us On Youtube
Suggest Us New Tool
Do You Need any New Tool For Your Work? Suggest Us & We Will Try To Implement That Tool In Website.