Convert JPG to PDF Under 50KB
Pi7 Image Tool: Your Fast Track to 50KB PDF From JPG
Drag Images To Arrange In Sequence.
Select JPEG or JPG Images to Create PDF
Are you tired of struggling with file size limitations when submitting online applications or job documents? Look no further! Pi7 Image Tool is here to save the day. Our web-based tool allows you to effortlessly convert your JPG and JPEG images into PDF files under 50KB. With just a few clicks, you can compress your images and ensure they meet those pesky size restrictions. Let's dive into how Pi7 Image Tool can make your life easier.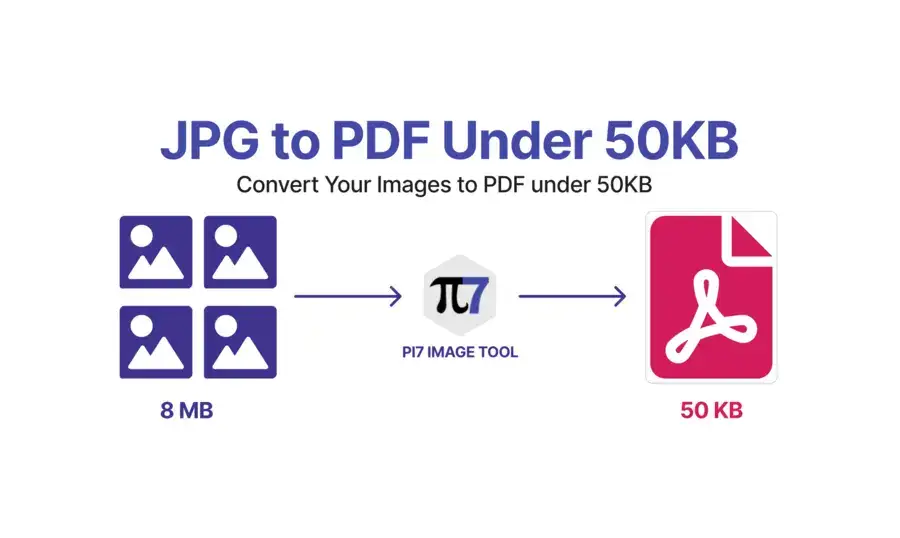 Why Choose Pi7 Image Tool For Make PDF Below 50KB?
When it comes to converting your images to PDFs under 50KB, Pi7 Image Tool is your go-to solution. Our user-friendly interface ensures a hassle-free experience, even if you're not tech-savvy. Here's why you should choose us:
Effortless Conversion: Converting your JPG and JPEG images to PDFs under 50KB has never been easier. Just upload your image and specify the desired file size.
File Size Compression: Our tool automatically compresses your images while maintaining their quality, ensuring they fit within the 50KB limit.
Ideal for Online Applications: Many websites impose strict size restrictions on PDF uploads. With Pi7 Image Tool, you can create compliant PDFs effortlessly.
Quick and Convenient:Save time and effort by converting your images within seconds. No need for complicated software or lengthy processes.
How to Use Pi7 Image Tool For Convert JPG to PDF Below 50KB
Using Pi7 Image Tool is a breeze. Follow these simple steps:
Upload Your Image: Click the "Upload" button and select your JPG or JPEG image from your device.
Set the Desired Size: Specify that you want a PDF file under 50KB by entering "50" in the designated field.
Click "Convert": Hit the "Convert" button, and our tool will work its magic, compressing your image into a PDF under 50KB.
Download Your PDF: Once the conversion is complete, click "Download" to save your perfectly sized PDF file.
Comparison: Pi7 Image Tool vs. Other Tools
To help you understand the advantages of Pi7 Image Tool, here's a comparison between our tool and our other tool, which converts images to PDFs under 200KB.
| Features | Pi7 Image Tool (50KB) | Pi7 Image Tool (200KB) |
| --- | --- | --- |
| Maximum File Size | 50KB | 200KB |
| Compression Efficiency | High | Moderate |
| Ideal for Small Files | ✓ | |
| Ideal for Larger Files | | ✓ |
| Quick Conversion | ✓ | ✓ |
| User-Friendly Interface | ✓ | ✓ |
Looking for PDFs under 200KB? Click here!
Conclusion
With Pi7 Image Tool, converting your JPG and JPEG images to PDFs under 50KB is a breeze. Say goodbye to frustrating file size restrictions and hello to seamless online submissions. Whether you need to apply for a job or submit an online application, Pi7 Image Tool has you covered. Try it today and experience the simplicity of converting your images into perfectly sized PDFs.
Subscribe Us On Youtube
Suggest Us New Tool
Do You Need any New Tool For Your Work? Suggest Us & We Will Try To Implement That Tool In Website.