Convert JPEG to PDF Under 200KB
Empowering Your Images: PDFs under 200KB Made Simple!
Drag Images To Arrange In Sequence.
Select JPEG or JPG Images to Create PDF
Are you struggling to upload images as PDFs because of size restrictions? Worry not! With Pi7 Image Tool, you can effortlessly convert your JPEG or JPG images into PDFs that are under 200KB in size. Whether you're applying for jobs, submitting online applications, or just need to shrink your image files, our tool has got you covered. In this post, we'll show you how to use Pi7 Image Tool and provide a simple guide on converting your images to PDFs under 200KB.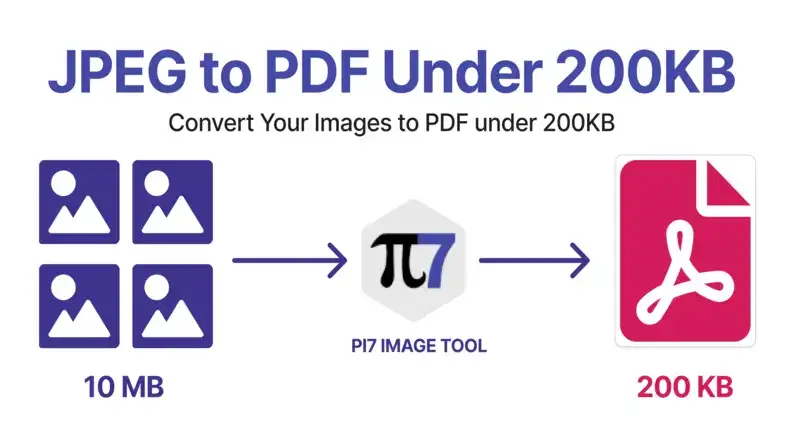 How to Convert JPEG to PDF under 200KB with Pi7 Image Tool
Follow these easy steps to transform your images into lightweight PDFs:
Upload Your Image: Go to our Pi7 Image Tool website and click on the "Upload Image" button. Select the JPEG or JPG image you want to convert into a PDF.
Set PDF Size: Specify the desired PDF size, ensuring it's under 200KB. Our tool will automatically compress the image to meet this size limit.
Convert to PDF: Click the "Convert to PDF" button, and within seconds, your image will be converted into a PDF that meets the 200KB size restriction.
Download Your PDF: Once the conversion is complete, simply click the "Download PDF" button to save your new PDF file to your device.
Why Use Pi7 Image Tool?
Effortless Conversion: Converting images to PDFs under 200KB has never been easier. Our tool streamlines the process for you.
Perfect for Online Applications: Many online platforms have strict size limits for PDF uploads. With Pi7 Image Tool, you can ensure your documents meet these requirements.
No Software Installation: You don't need to install any software or plugins. Our online tool works on all major browsers.
Fast and Free: Pi7 Image Tool is lightning-fast and completely free to use.
Looking to convert PDFs back into images? Check out our sister tool, PDF to Images Converter. It's the perfect solution for extracting images from your PDF documents.
Image to PDF Conversion Size Comparison
Here's a quick reference table to help you understand the size differences when converting images to PDF:
| Input Image Size | Output PDF Size (Approx.) | Example Applications |
| --- | --- | --- |
| Up to 5MB | Under 200KB | Online Forms, Job Applications |
| Up to 3MB | Under 150KB | Resume Submission, Document Sharing |
| Up to 2MB | Under 100KB | Web Content, Email Attachments |
| Up to 1MB | Under 50KB | Online Profiles, Social Media |
Conclusion
Don't let size restrictions hold you back from submitting documents online. Use Pi7 Image Tool to effortlessly convert your JPEG or JPG images into PDFs that are under 200KB in size. With our user-friendly tool, you can meet the requirements of various online applications and job submissions. Try it today and experience the convenience of hassle-free image to PDF conversion.
Subscribe Us On Youtube
Suggest Us New Tool
Do You Need any New Tool For Your Work? Suggest Us & We Will Try To Implement That Tool In Website.