Convert JPG to PDF Under 300KB
Effortlessly Compress & Convert JPG's to 300KB PDFs
Drag Images To Arrange In Sequence.
Select JPEG or JPG Images to Create PDF
Are you looking for a simple way to convert images to PDFs below 300KB? Look no further! Welcome to the Pi7 Image Tool, your go-to solution for effortlessly compressing JPEG images and creating PDFs that are less than 300KB in size. Whether it's for online applications or document submissions, our tool makes the process quick and easy.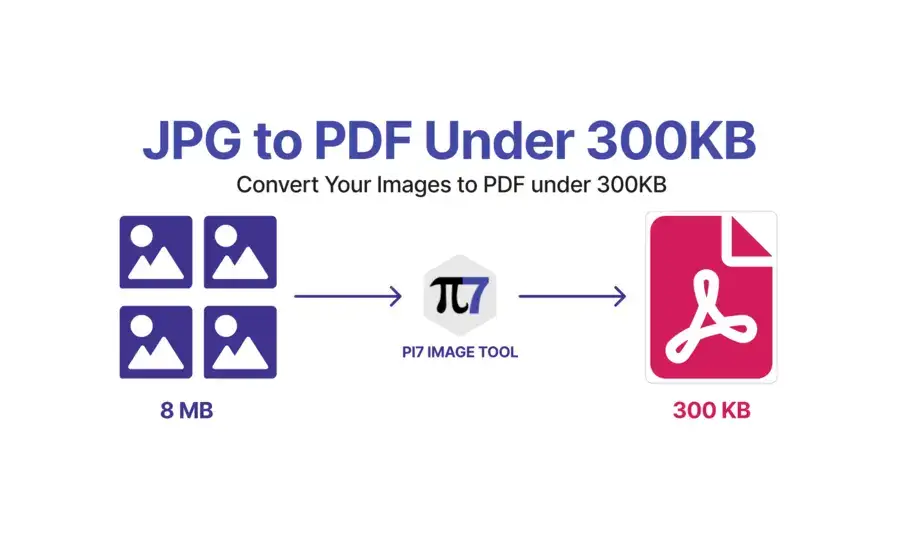 Convert JPG To PDF Below 300KB With Pi7 Image Tool:
Upload Your Image: Start by uploading your JPEG image. Click the "Upload Image" button and select the file from your device.
Set Your Desired PDF Size: Specify the maximum size for your PDF, ensuring it's below 300KB. You can adjust the settings to achieve the desired compression.
Convert: Hit the "Convert" button, and our tool will swiftly compress your image, generating a PDF that's less than 300KB in size.
Download: Once the conversion is complete, you can easily download your perfectly sized PDF and use it for online submissions.
Converting JPG's to PDF Below 300KB: It's that Simple!
If you require even smaller PDFs (under 200KB), Pi7 Image Tool has you covered. Explore our internal link to another valuable tool: JPG to PDF Under 200KB. This tool is tailored for platforms with even stricter size limitations.
The Pi7 Image Tool Advantage: Compress JPEGs Below 300KB
Swift and Effortless:
Pi7 Image Tool simplifies the entire process. You can upload your JPEG images and specify the desired PDF size, ensuring it's below 300KB. Within moments, our tool will work its magic and deliver a perfectly compressed PDF file.
Ideal for Online Submissions:
Many online platforms and applications require documents to be less than 300KB in size. With Pi7 Image Tool, you can ensure your PDFs meet these size requirements without compromising on quality.
Seamlessly Convert Images:
Our tool offers a seamless way to convert images into PDFs below 300KB. You don't need any technical expertise to use it; it's designed for simplicity, making it accessible to everyone.
Frequently Asked Questions
Here are some common questions related to Pi7 Image Tool:
| Question | Answer |
| --- | --- |
| What image formats are supported? | Our tool accommodates JPEG formats. |
| Is the tool free to use? | Yes, Pi7 Image Tool is completely free. |
| Do I need to register or sign in? | No registration is required; it's hassle-free. |
| Is my data secure while using the tool? | We prioritize data privacy. Your images are securely processed and deleted after conversion. |
| Can I compress multiple images at once? | Currently, the tool supports one image at a time for optimal performance. |
Wrap-Up:
Don't let size limitations hold you back. With Pi7 Image Tool, converting images to PDFs below 300KB is a breeze. Say goodbye to oversized files and hello to a simple, efficient solution. Try it out today and experience the convenience for yourself!
Subscribe Us On Youtube
Suggest Us New Tool
Do You Need any New Tool For Your Work? Suggest Us & We Will Try To Implement That Tool In Website.