Reduce Image Size In KB
For fast image sharing you have to reduce image size In KB. Images are an essential component of online content, but large images can slow down your website and negatively affect user experience. One solution to this problem is to optimize images by reducing their size without compromising their quality.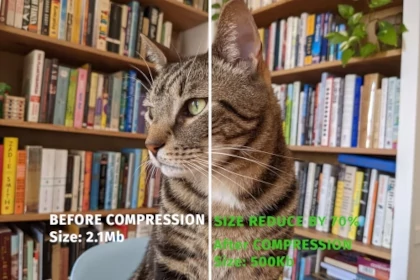 In this article, we'll show you how to reduce image size in KB using PI7 Image Compressor.
What is PI7 Image Compressor?
PI7 Image Compressor is a free online tool that uses advanced algorithms to compress images in JPEG, PNG, and GIF formats. With PI7 Image Compressor, you can reduce image size by up to 90% without losing resolution.
Image compression is the process of removing unnecessary pixels from an image to reduce the image size. For example, By removing all blank pixels from a transparent image can help in less file size. Various techniques can compress the size of an image without losing image quality. By reducing the file size, you can store more images on a disk or in memory. Also, the compressed image can be easily uploaded to social media or other websites.
Steps to Reduce Image Size using PI7 Image Compressor:
To compress the size of your images using PI7 Image Compressor, follow these steps:
Click on the "Upload Image" button.
Select the image you want to compress.
Next, click on the "Compress Image" button.
Finally, download the compressed image.
Tips for Optimizing Images:
To optimize images effectively, keep the following tips in mind:
Resize the image to the required size before compressing it.
Use the correct image format - JPEG is ideal for photographs, PNG for graphics, and GIF for animated images.
Keep the image quality to a minimum level required for reduce image size.
Use descriptive alt text for images to improve SEO.
Conclusion:
In conclusion, optimizing images is crucial for improving website speed and user experience. By using PI7 Image Compressor, you can easily reduce image size in KB without losing quality. The compression process is quick and straightforward, and the results are impressive. Follow the tips above to optimize your website's images, and boost your SEO rankings.
Subscribe Us On Youtube
Suggest Us New Tool
Do You Need any New Tool For Your Work? Suggest Us & We Will Try To Implement That Tool In Website.